PRP Therapy for Hair Loss in Scottsdale, AZ
What Is PRP Therapy for Hair Loss?
Hair loss is a significant concern for a number of individuals, whether it's brought on by genetics, age, hormones, health conditions, or from styling practices and/or products. With recent advances in research within the hair restoration industry, new procedures have been created to help combat the issue. Platelet-rich plasma (PRP) is a premier nonsurgical procedure for people that is showing remarkable benefits in slowing, stopping, and reversing hair loss. PRP has shown promising results in patients with alopecia areata and thinning eyebrows. Board-certified nurse practitioner Megan Ahmed of Desert Sage Dermatology is just one of a small handful of hair restoration specialists to offer this innovative therapy in Scottsdale, AZ. By mixing a strong solution of growth factors and bioactive proteins, Megan can help strengthen your hair, resulting in thicker, longer, healthier locks.
Our PRP for Hair Loss Technique
A nonsurgical procedure, the PRP treatment is a brief in-office visit. Your session begins with acquiring a little bit of your blood and placing it in a special machine, which rotates the blood at high speed to separate the platelets from the rest of the blood components.
The concentrated platelet-rich plasma is then reintroduced via injection into areas of your scalp that are thinning or sparse.
PRP treatments are recommended in a series of three treatements, spaced 4-6 weeks apart for best results. It is necessary to be aware that PRP does not grow new hair follicles, it is used to reverse the miniaturization of hair follicles so they will produce fuller, healthier, longer hair fibers.
Are there any pre-treatment instructions?
Be sure to drink plenty of water the morning of your appointment
Be sure to eat a light meal prior to your appointment
Are there any post treatment instructions?
Do not dye or color hair for 48 hours post treatment
Avoid the use of anti-inflammatory medications several days post treatment (Motrin, Advil, Aleve, etc.)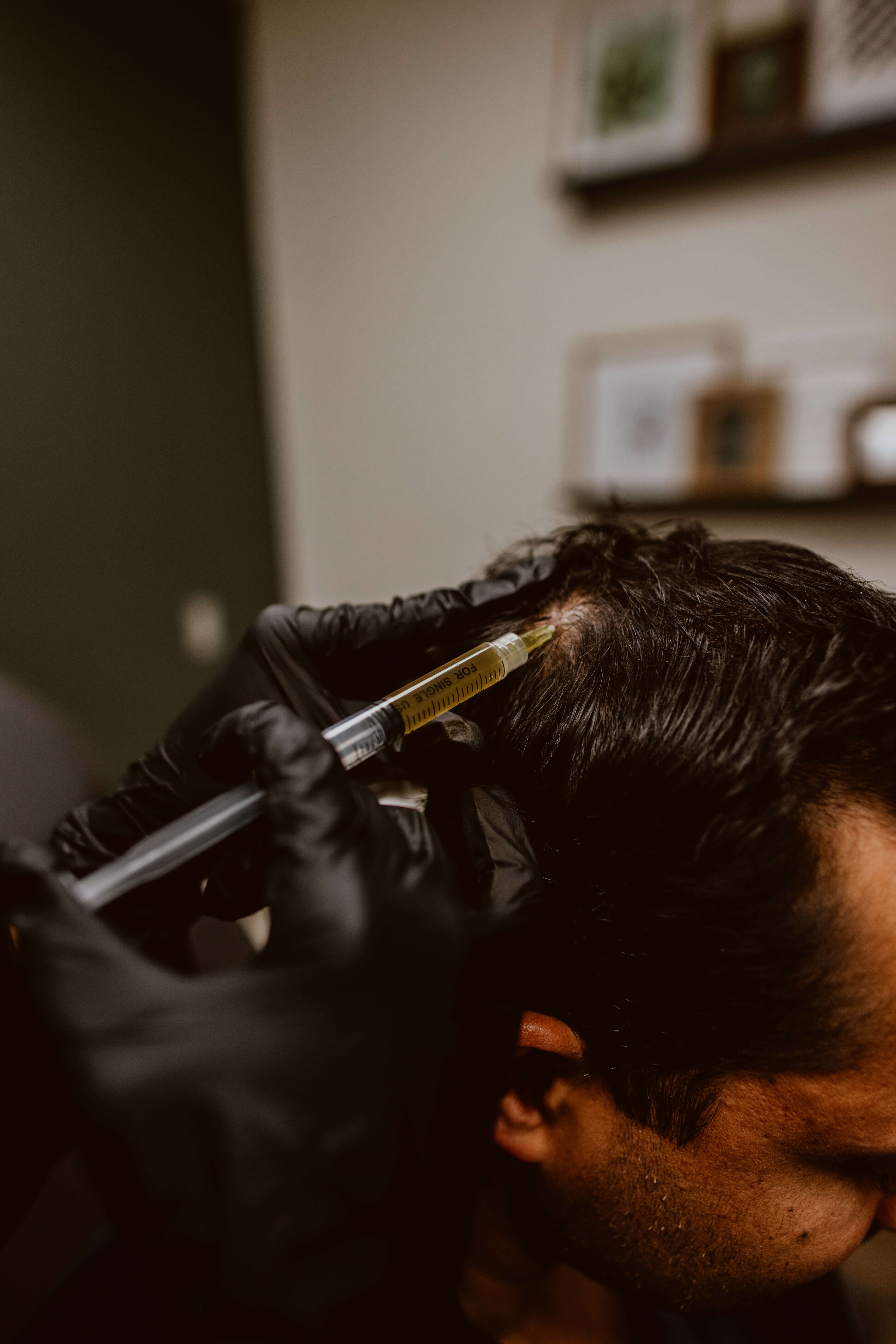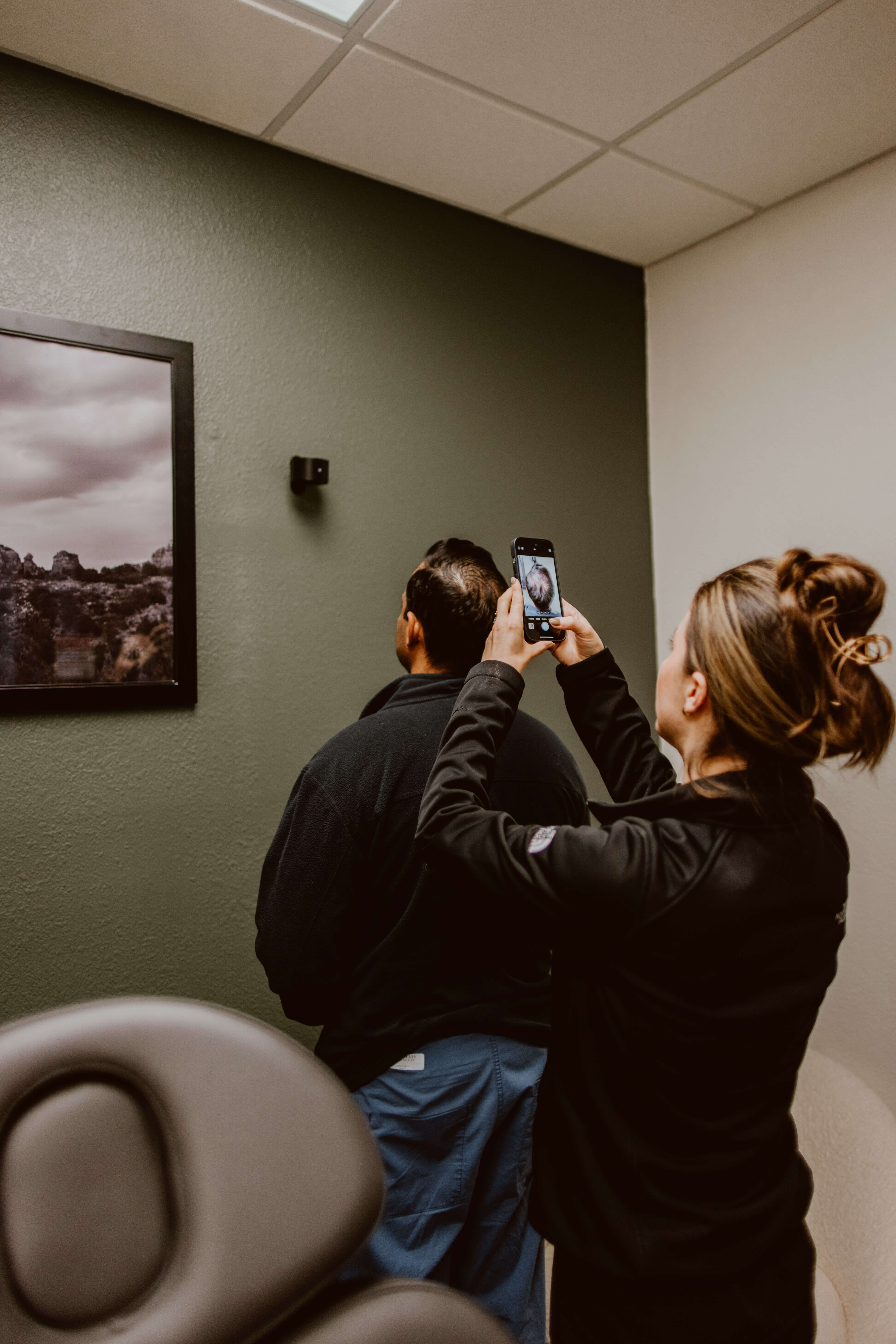 Desert Sage Dermatology Reviews
I had the absolute best experience with Megan. She is so knowledgeable & approached my skin concerns from all angles. I loved how educational the visit was & her approach for my specific needs. Get in for a consultation, you won't regret it.
Megan was by far the best derm I've ever seen. She was informative- really helped me understand options for skincare and hair loss. She listened to my concerns patiently. Had some some good recommendations in various price ranges for skincare.
I've been treated by Megan for over one year now and she is fantastic. She takes the time to discuss treatment options with you, gives honest feedback about products, and is very skilled in both medical and cosmetic dermatology. I've also gotten Vivace and botox by her and she has done an excellent job. Highly recommend!
Megan is the best derm I have been to. She gets you in and out, you never wait more than 5-10 mins. She's very knowledgeable and knows how to relate. Megan is super easy to talk to and you can get into to see her within the week. She's wonderful. Would highly recommend. My skin was horrible and now it's just about flawless.
Great people and quick- no waiting.
Get In Touch
Stimulate New Growth
PRP therapy is a medically and clinically backed alternative for people struggling to choose between hair loss solutions. At Desert Sage Dermatology, we are proud to provide proven solutions to efficiently address hair loss. To learn more about PRP treatment sessions, we invite you to call our Scottsdale, AZ office today.
Learn More About South Scottsdale
About Us
Related Procedures