Laser Treatments in Scottsdale, AZ
About Our Laser Treatments
At Desert Sage Dermatology, we aim to use the latest and greatest technologies available to us. We offer a variety of cutting-edge procedures using state-of-the-art technologies and techniques. Laser treatments allow us to treat a variety of needs without having to perform invasive procedures. Using advanced heating technology, lasers are able to penetrate the skin without using invasive techniques to target the areas of concern. For treatments like hair removal, the device zaps the pigment within the hair follicle, causing it to shed the hair naturally and over time, not grow back. For skin resurfacing, laser energy targets sun spots, scars, and wrinkles to encourage cell turnover and new, healthy tissue. To diminish skin discoloration including age spots, sun damage spots, and freckles, Dye-VL (similiar to photofacial) may require multiple treatments for removal. For more information on how laser treatments can help you reach your aesthetic goals, contact our Scottsdale, AZ office to schedule a consultation with family nurse practitioner Megan Ahmed for more information.
What to Expect from Laser Treatments
Desert Sage Dermatology only uses top-of-the-line technology for laser treatments, which are always performed by our highly trained and experienced staff. This ensures patients receive the highest quality care and the best possible results. We perform the following:
Laser skin resurfacing: The Alma ClearLift™ tightens skin and smooths fine lines and wrinkles around the eyes, mouth, neck, and chest. Without damaging the outer layers of your skin, the fractional, nonablative laser addresses a variety of aesthetic concerns, including acne scars, fine lines, wrinkles, and redness. This treatment can take years off your face in minutes, leaving skin looking smoother and healthier with no downtime.
Dye-VL): Dye-VL is a rejuvenating skin treatment for hyperpigmentation issues that can occur anywhere on the body. Our team uses intense pulses of light energy to stimulate the natural healing process and increase collagen production. In time, you should notice a healthier complexion, an improved tone, and fewer spots of pigmentation. Our team employs Harmony® XL PRO technology from Alma Lasers to perform Dye-VL treatment sessions.
Laser hair removal: Featuring the intuitive Harmony XL PRO and the Super Hair Removal method, this treatment typically leaves the skin feeling and looking smoother and produces great, lasting results compared to other common hair removal methods. This laser treatment delivers light energy at a high wavelength to carry out safe and effective laser hair removal services in common areas, such as the legs, arms, back, face, chest, and bikini area.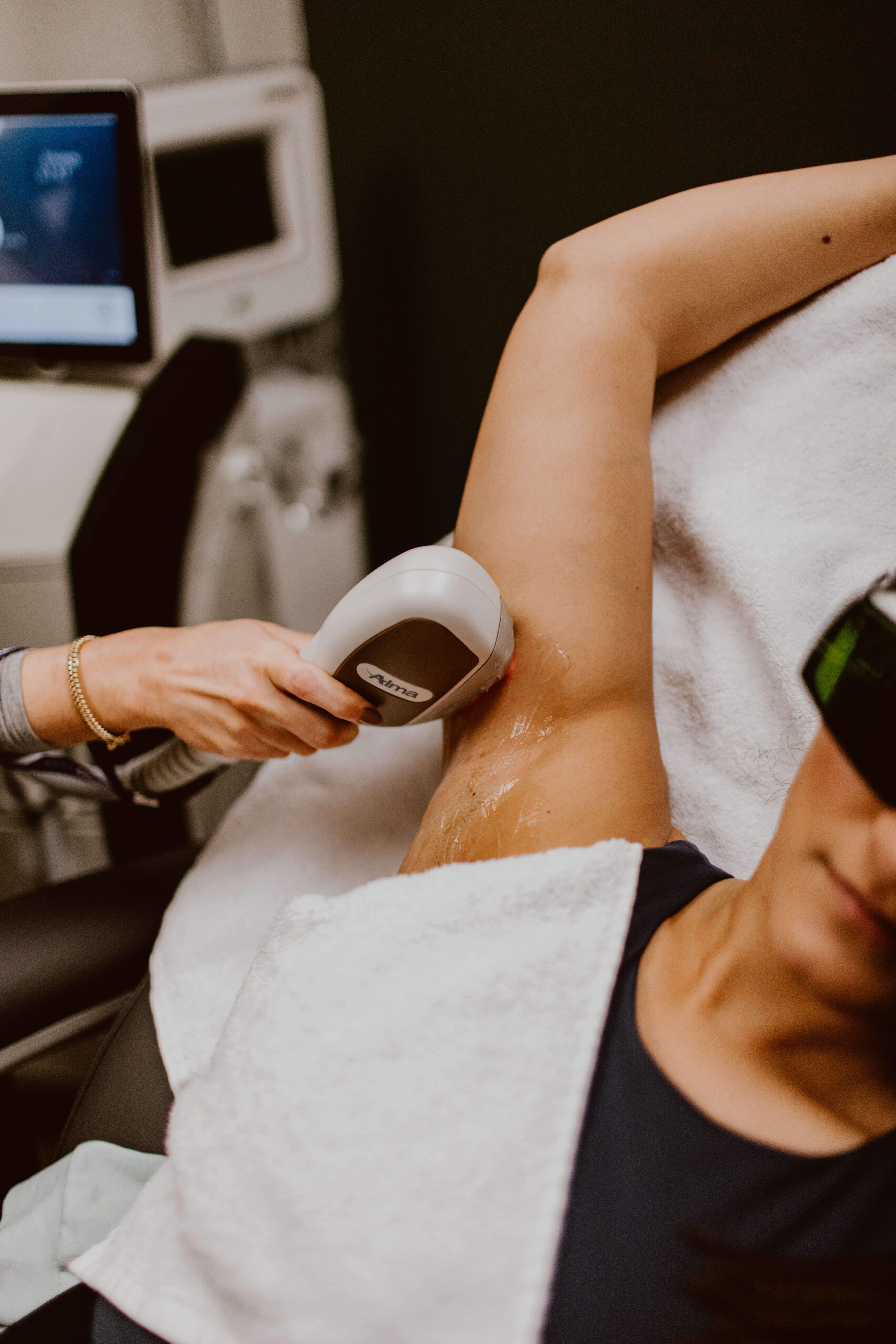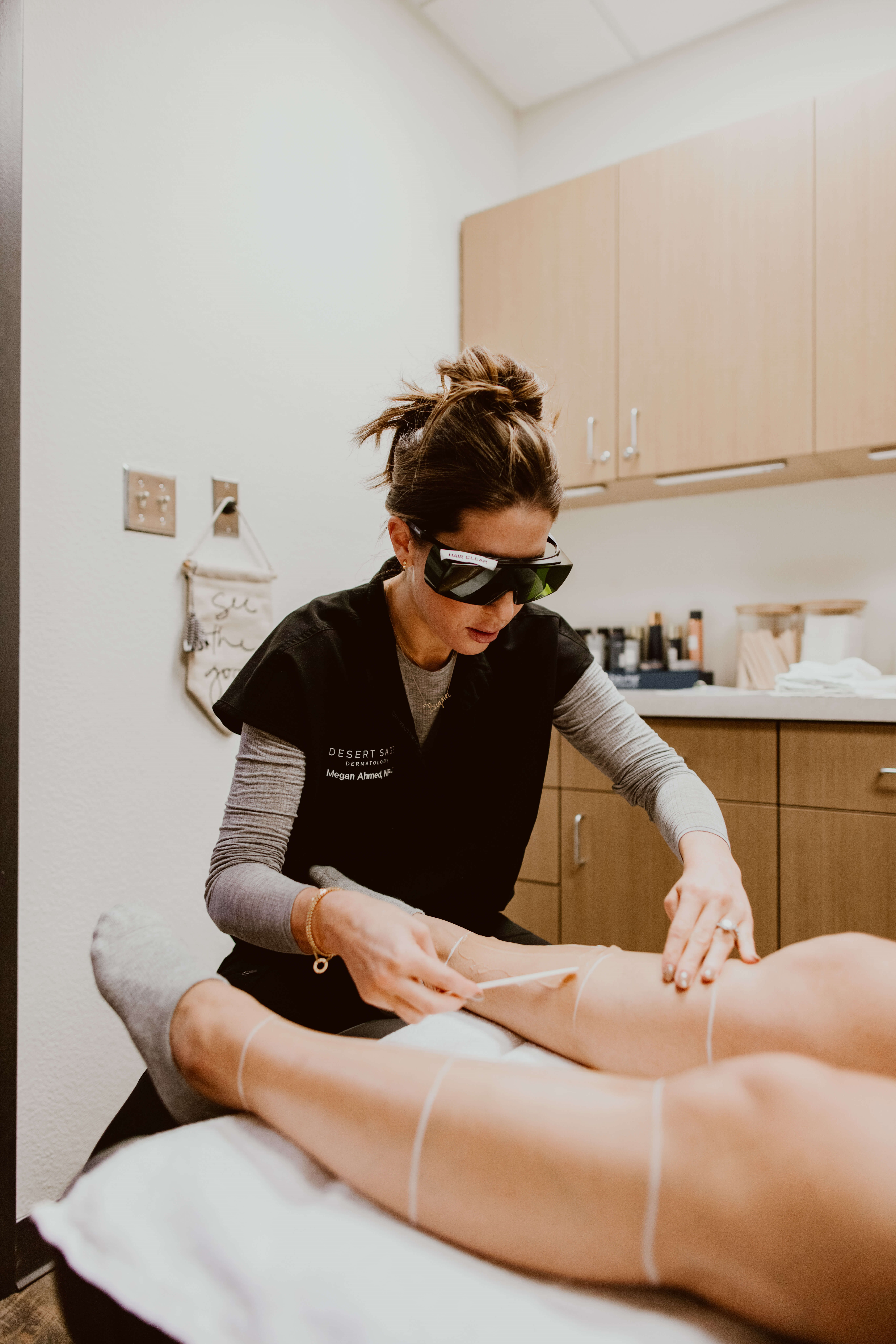 Desert Sage Dermatology Reviews
I had the absolute best experience with Megan. She is so knowledgeable & approached my skin concerns from all angles. I loved how educational the visit was & her approach for my specific needs. Get in for a consultation, you won't regret it.
Megan was by far the best derm I've ever seen. She was informative- really helped me understand options for skincare and hair loss. She listened to my concerns patiently. Had some some good recommendations in various price ranges for skincare.
I've been treated by Megan for over one year now and she is fantastic. She takes the time to discuss treatment options with you, gives honest feedback about products, and is very skilled in both medical and cosmetic dermatology. I've also gotten Vivace and botox by her and she has done an excellent job. Highly recommend!
Megan is the best derm I have been to. She gets you in and out, you never wait more than 5-10 mins. She's very knowledgeable and knows how to relate. Megan is super easy to talk to and you can get into to see her within the week. She's wonderful. Would highly recommend. My skin was horrible and now it's just about flawless.
Great people and quick- no waiting.
Get In Touch
A Leader in Skin Health
Desert Sage Dermatology is thrilled to be a leader in skin health. We offer a number of solutions to enhance the health and beauty of your skin, all of which are safe and effective. If you're interested in laser hair removal, laser skin resurfacing, or any of our other advanced laser treatments, we invite you to reach out to our team in Scottsdale, AZ today to schedule your consultation.
Learn More About South Scottsdale
About Us
Related Procedures