Vivace RF Microneedling in Scottsdale, AZ
What Is Vivace RF Microneedling?
If home skin care products aren't proving effective, but you don't want surgery, try nonsurgical treatments to rejuvenate the skin, like RF microneedling. Nurse practitioner Megan Ahmed is happy to offer Vivace®, the newest generation of microneedling with radiofrequency at her office in Scottsdale, AZ. Microneedling uses several fine-gauge needles to effectively and safely create micro-injuries in the skin. The micro-injuries trigger the natural production of collagen and elastin, two nutrients that enhance the health and appearance of your skin. The experience makes it possible to minimize fine lines and wrinkles and revitalize your complexion with no downtime and immediate results. Vivace is an FDA-cleared microneedling with RF treatment that contours and tightens the face, neck, hands, and body. This nonsurgical procedure stimulates the natural production of collagen to reduce fine lines and wrinkles. Some patients begin seeing results after just one office visit to Desert Sage Dermatology. A series of treatments with Vivace over a few months will maximize the transformation of your skin. Make an appointment for a consultation at Desert Sage Dermatology to hear more about the results of this procedure and ways to customize the procedure for your skin needs and goals.
Our RF Microneedling Technique
Our Vivace RF microneedling treatment is performed in our aesthetic treatment room in about 60 minutes. We apply a topical numbing cream to ensure the treatment is virtually pain-free. The areas of skin being addressed will be prepped with an antimicrobial solution before the Vivace handpiece is passed evenly over. Vivace utilizes advanced robotic technology with 36 gold plated sterile microneedles to create numerous microscopic "injuries" in the skin. The technology makes this process virtually painless as the skin prepares for each injury to be healed, stimulating the production of new, healthy collagen to revive the appearance and youthfulness of the skin. RF thermal energy facilitates a natural wound-healing process and promotes the remodeling of collagen, elastin, and wound contraction. After the microneedling is complete, a topical treatment, like PRP (platelet-rich plasma) can be applied so the nutrients can penetrate deeper into the skin.
What skin benefits can Vivace provide?
Alleviate wrinkles + fine lines
Tighthen skin
Minimize pore size
Improve skin texture + tone
Encouragement of production of collagen + elastin for long lasting skin health
What areas can be treated with Vivace?
The beauty of Vivace is anywhere on the body can be treated! Common areas include the face, neck, and chest. However, Vivace can be used to tighten and remodel belly button laxity post weight loss or baby.
Is there any downtime post Vivace treatment?
One of the benefits to receiving a Vivace RF microneedling treatment is there is virtually ZERO downtime. Immediately following treatment, you may be slightly pink and flush in the treated area. This should resolve in about 24 hours. We will provide you with an exclusive post-care regimen that works to soothe the skin. You will likely only notice a post-treatment tightening and glow to your skin.
Is there anything I should avoid after treatment?
We recommend our patients avoid working out, excessive heat exposure, and cosmetics following their treatment. You can resume normal activities the next day. Any facial products containing active ingredients such as glycolic acid, salicylic acid, retinols, and retinoids may be resumed 3-5 days post treatment.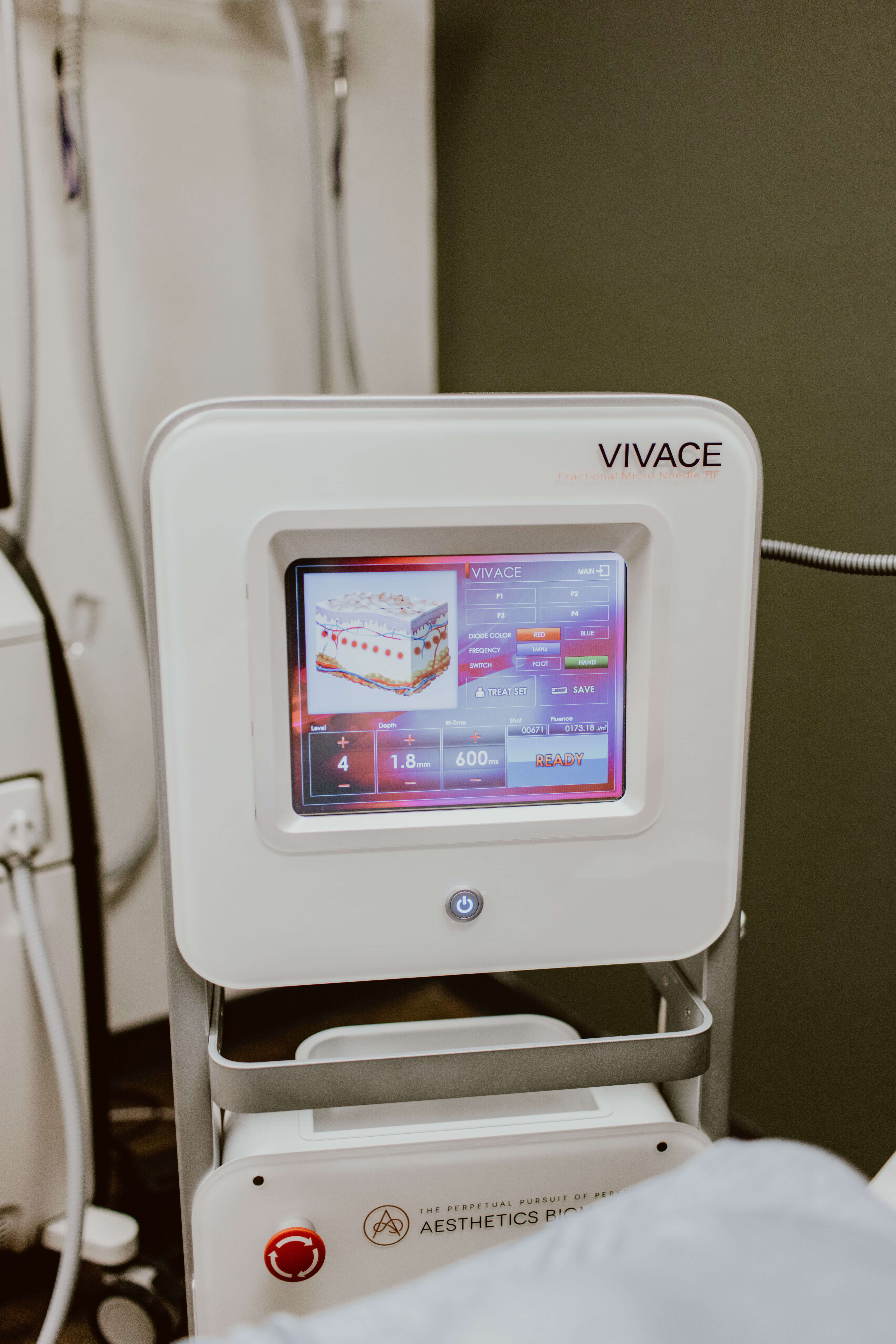 Vivace RF Microneedling Reviews
Megan gave my skin the royal treatment! I received microneedling and she made sure my treatment was pain free and ultimately the best choice for my skin type and my skin goals. I have been dealing with melasma from my first pregnancy that has never gone away & several days after my treatment was the most improvement I've seen in year. My skin felt amazing for the week following my treatment and from the recommendations that Megan gave me for skincare products, I only hope for my skin to keep looking better & better. THANKS MEGAN!
Get In Touch
Exceptional Skin
If you're wanting to lessen the look of aging or sun-damaged skin and reduce wrinkles, laxity, or acne scars, RF microneedling is a great remedy with proven results. Combining radiofrequency microneedling and skin tightening, this exceptional skin repair procedure has increased in popularity and is a top-rated, minimally invasive treatment for our Scottsdale, AZ patients. We ask you to call Desert Sage Dermatology to learn more.
Learn More About South Scottsdale
About Us
Related Procedures